24th February 2023
Further Increase in Homelessness (11,754) as Moratorium on Evictions Due to End in Five Weeks – Simon Communities of Ireland
A record 11,754 people were in emergency homeless accommodation at the end of January.
This is the seventh consecutive month of record breaking figures and the thirteenth consecutive month of increasing homelessness.
While welcoming the reduction in homelessness outside of Dublin, the Simon Communities of Ireland are calling for an extension of the moratorium on evictions, not defined by a period of time, but by clear achievable objectives that would see the opportunity taken to get ahead of the homelessness crisis.
The 11,754 men, women and children in homeless emergency accommodation in January 2023 represents an increase of 1% (122 people) in one month and a 28.5% increase (2,604 people) since this time last year.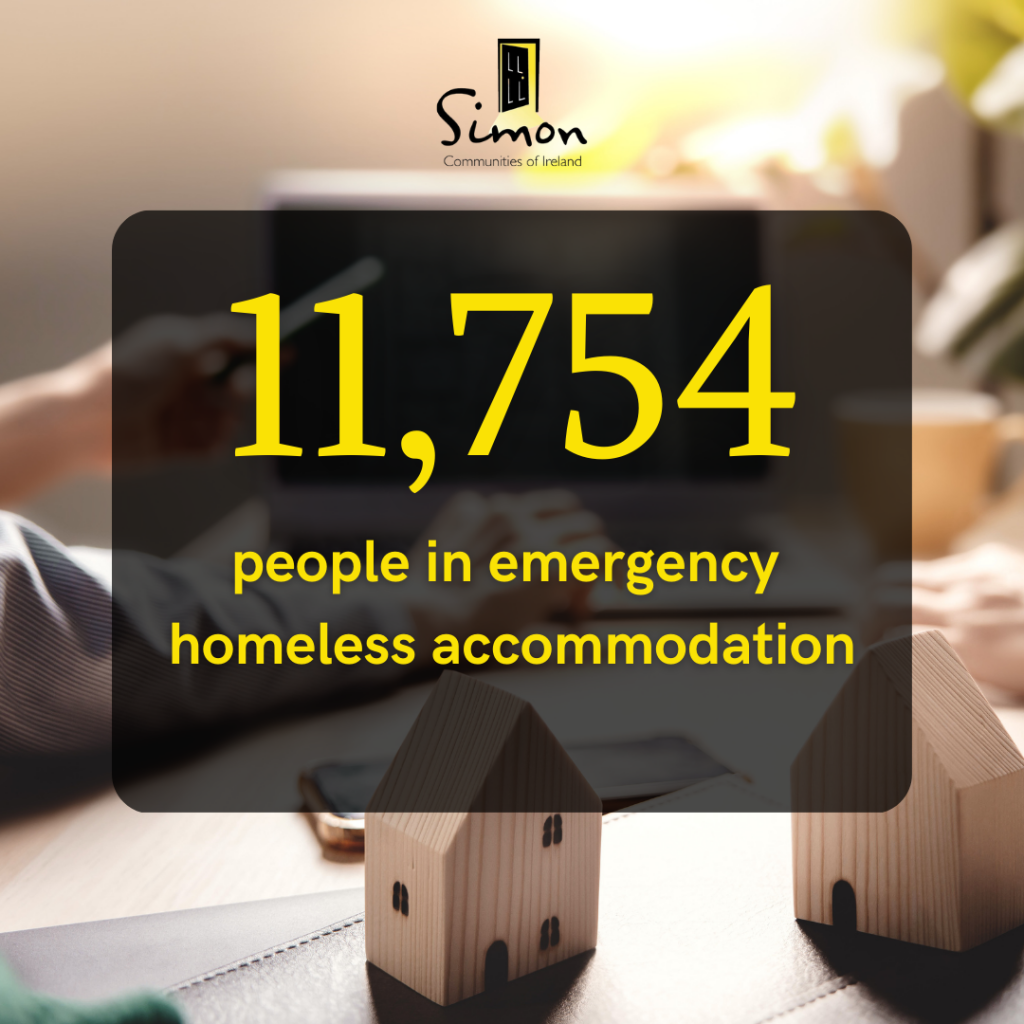 1,609 were families – this is 15 (1%) more than the previous month (1,594 families) 
5,670 were single adults – this is an increase of 99 (1.78%) on the previous month (5,571 single adults). This is a record high number of single adults in homelessness.
3,431 were Children/Dependents – this is a decrease of 11 (0.3%) on the previous month (3,442 dependents) 
1,423 were Young People aged 18-24 – this is an increase of 2.6% on the previous month (1,387), and up 312 (28%) year on year from 1,111 in January 2022. This is a record high number of young people in homelessness.
There was a record number of adults (8,323), one-parent families (2,653) adult women (3,036), adult men (5,287) people aged 25-44 (4,446), and people aged 45-64 (2,287).
Homelessness in Dublin increased by 147 (1.7%) on the previous month and increased by 35 (4.9%) in the South West region. Outside of these areas, homelessness decreased by 60 (3.36%).
Wayne Stanley, Executive Director of the Simon Communities of Ireland, said: 
"An extension on the moratorium is required. That extension should not be time based, but results based. That means we get ahead of the crisis, drive down the numbers and then lift the moratorium.

Getting ahead of the crisis means three consecutive months of reducing the numbers of households in homelessness and an increase in the number of households supported to move on from homelessness, beyond the level of new presentations seen before the moratorium was put in place.

This can be achieved by building on the work done to increase rollout of the tenant in situ scheme and increasing the allocation of public housing to those in homelessness.

While we are deeply concerned about the overall growth in homelessness, we do draw hope from the reduction in homelessness that we see outside of Dublin. The experience of the Simon Communities across the country is that, had the moratorium not been put in place at the end of October, the situation would be a lot worse nationally. Lifting the current moratorium on evictions would be a mistake with potentially devastating consequences for some of the vulnerable families and individuals at the sharp end of our housing crisis."