24th June 2022
The State must act immediately on Vacant Properties to address the Homelessness Crisis – Simon Communities of Ireland
With 10,325 people in homelessness, rising rents and a shortage of affordable properties, the Simon Communities of Ireland are calling on the Government to treat homelessness with the urgency applied during the Covid Pandemic. The government needs to take action immediately on the high levels of vacant properties highlighted by the recent CSO data. Bringing vacant properties back into use and securing them as affordable homes will help to address homelessness.
According to the latest figures by the Department of Housing, Heritage and Local Government, the number of people in emergency homeless accommodation has risen again for the fifth consecutive month.
There were 10,325 men, women and children in homeless emergency accommodation in Ireland during the last week of May 2022. This is a 29% (2334) increase in homelessness year on year, and only 189 away from the highest homeless figure recorded by the Department in October 2019 (10,514).
1366 were families – this is 58 (4.4%) more than the previous month (1,308 families)
5054 were single adults – this is 97 (2%) increase on the previous month (4,957 single adults). This is the highest number of single adults in homelessness on record in the Department
3028 were Children/Dependents – this is up 84 (2.9%) on the previous month (2,944 dependents)
1242 were Young People aged 18-24 – this is a decrease of 4 on the previous month (1,246) and up 780 (59%) year on year from 780 in May 2021.
There was also a record high number of adults (7297), male adults (4725), people aged 25-44 (3908) and people aged 45-65 (1996)
This is an increase of 2.8% (276 people) in one month and a 29% increase (2334 people) since this time last year when we saw, as a result of actions taken during the pandemic, of the number people in emergency homeless accommodation declining to its lowest point since July 2017.(7991 people in May 2021).
Wayne Stanley, Head of Policy and Communication at the Simon Communities of Ireland, said:
The numbers today confirm again that homelessness is back to pre-Covid levels. Our own Locked Out of the Market reports show that a lack of properties to rent at affordable rates is a major driver of this.

CSO figures released yesterday set out that there are now 166,752 vacant homes across the country. It is unacceptable to have so many vacant homes while there are 10325 people in homelessness. The entire country is plagued with rising rents and a lack of supply. Tackling vacancy provides an opportunity to increase our social housing stock quickly; something we desperately need to do to support the over 10,000 men, women and children experiencing homelessness to secure a home.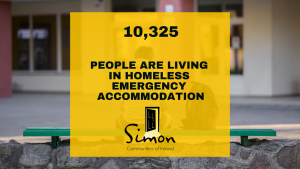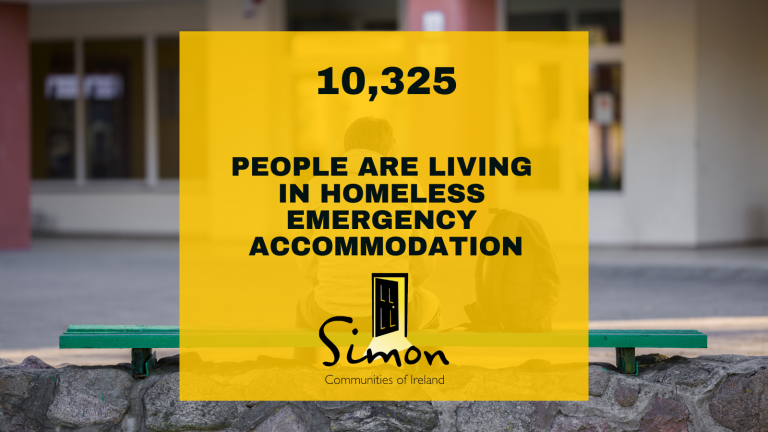 For further information contact Aileen Gaskin 087 7724 717 / communications@simoncommunity.com