27th May 2022
  Simon Communities of Ireland call for Urgent Action on Vacant Properties as Number in Homelessness Passes 10,000
The number of people in emergency homeless accommodation has returned to pre pandemic figures as numbers have risen for the fourth consecutive month. The Simon Communities of Ireland are calling on the Government to act on the large number of vacant properties across the country to get ahead of this crisis.
According to the latest figures by the Department of Housing, Heritage and Local Government, there were 10,049 men, women and children in homeless emergency accommodation in Ireland during the last week of April 2022. This is a 24% (1,967) increase in homelessness year on year.
1,308 were families – this is 70 (5.6%) more than the previous month (1,238 families)
4,957 were single adults – this is 186 (3.6%) decrease on the previous month (5,143 single adults)
2,944 were Children/Dependents – this is up 133 (4.7%) on the previous month (2,811 dependents)
1,246 were Young People aged 18-24 – this is up 16 (1.3%) on the previous month (1,230) and up 513 (70%) year on year from 733 in April 2021. This is the highest number of young people in homelessness on record in the Department
There was also a record high number of adults (7,105), male adults (4,587) and people aged 45-65 (1,925)
This is an increase of 2.3% (224 people) in one month and a 24.3% increase (1,967 people) since this time last year (8,082 people in April 2021).
Wayne Stanley, Head of Policy and Communication at the Simon Communities of Ireland, said:
"While we acknowledge that there are important initiatives happening in government and positive policy being developed across the Oireachtas, seeing the number of people in homelessness exceed 10,000 again painfully highlights that the depth of the housing crisis means incremental advancements in our housing system is not enough to get ahead of the homelessness crisis.

While nothing in housing is straight forward, the more than 90,000 vacant homes in the State hold real potential in getting ahead of the this crisis. The time has come for a significant, sustained and well-funded programme that will bring vacant properties back into use for those experiencing or at risk of homelessness. This would provide the headroom in the housing system that is needed if we are to get ahead of the homelessness crisis."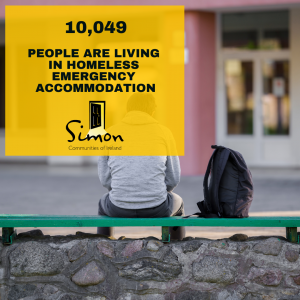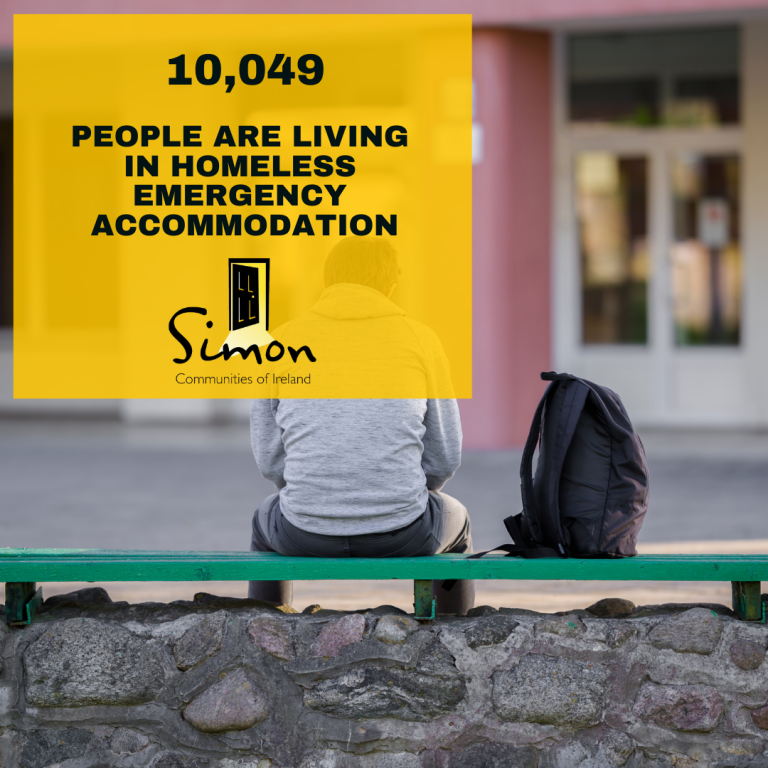 For further information contact Aileen Gaskin 087 7724 717 / communications@simoncommunity.com